White River Information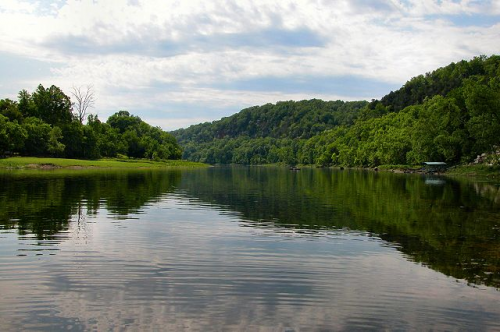 The White River in the Northern Arkansas Ozarks, attracts people from all over the nation who wants to experience the picturesque and scenic beauty that the area has to offer. Flowing through Arkansas and Missouri, the White River originates in the Boston Mountains of Northwest Arkansas and flows northwards into Southern Missouri before turning back into Arkansas and flowing Southeast towards Mississippi River.
The area surrounding the White River in Arkansas includes the gorgeous Ozark Mountains, the Ozark National Forest, and miles and miles of rolling foothills. The waters of the White River are crystal clear, very clean and cold. The river is quite famous internationally for its trout fishing and has long been recognized as one of the top trout fisheries in the United States. For a number of trout species including brown, rainbow and cutthroat trout, fishing is immensely popular in the waters of White River.
However, as the water is cold enough to sustain trout, going swimming in the White River waters is not an ideal option. Having said that, it does offer a wealth of outdoor recreational opportunities. From fishing, canoeing, boating, camping, hiking and biking the White River offers a wide variety of different outdoor activities which can appeal to everyone in the family. If weather permits, the flow of the White River water is usually adequate for paddling all year.
Although any time of the year will be suitable for paddling the reach of White River, winters can be quite cold in the region closest to the Ozark Mountains. On the other hand, summers in the region tend to be warm and muggy. The best time for floating and paddling is from March to June and October to November.
Along the shores of White River lies the Bull Shoals-White River State Park. The state park offers excellent campsites along with access to all of the much-needed amenities such as drinking water, showers, and restrooms. The Bull Shoals-White River State Park is the only public camping area near the long stretch of White River. Camping along the shores of White River offers families an opportunity to experience the natural beauty of the area and spend time together away from the hustle and bustle of towns and cities.
In addition to fishing, paddling and camping, the Bull Shoals-White River State Park also provides great hiking and mountain biking experience. There are a number of different hiking trails that you can choose from depending upon your interest in a short or extended outing. Overall, there are many different outdoor activities and experiences available in and around the waters of the White River of Arkansas.
There is a good selection of affordable homes, farms, land and other real estate for sale along the White River and many people have made the area their home. With a little patience you might be one of the lucky ones.